New look to the Tardebigge church website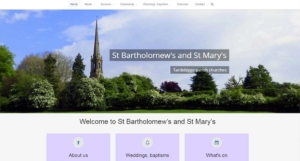 As you can see (hopefully!), we've given the website for St Bartholomew's and St Mary's a bit of a makeover.
The new theme is designed to work better with mobile phones and tablets, but it also gives us more options for displaying text and images.
The home page has quick links to the most popular pages, plus live feeds from the church and Spring Greens Facebook pages.
And on each of the sub-pages, we've improved the layout so you should find all the info is easier to see and to read.
Click on the following links for examples:
Tell us what you think
We welcome your feedback about the design of the site as well as the content, in case there's anything we've overlooked.
Please let us know by:
emailing us at contact@tardebiggechurch.org.uk, or
sending us a message using the contact form.
We look forward to hearing from you!