Keeping in touch
Keep up to date with latest news and events in and around Tardebigge:
check the Calendar
follow us on Facebook
get Latest News updates by email
read the Sunday notices sheet – or 'pews news'.
Sunday notices – 'pews news'
We produce a notice sheet every Sunday, sometimes called the pew sheet or 'pews news'.
It lists the services and events for that day and the next few weeks.
It's handed to you at the door when you come to a church service.
We also put up a monthly list of services on our notice boards.
The notice boards are by the main door of St Bartholomew's, in the church car park and on the canal towpath (next to the Canal and River Trust buildings in Tardebigge new wharf).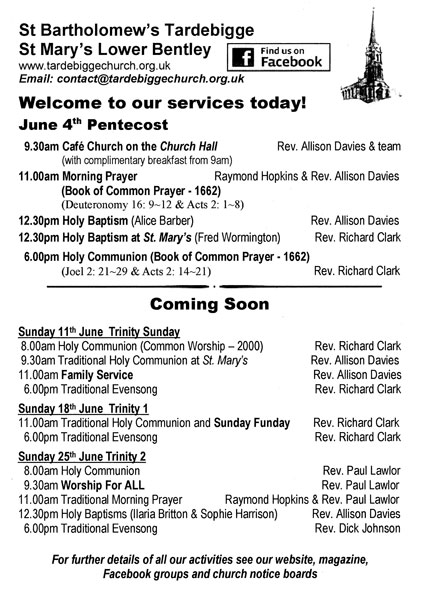 Latest news updates by email
To get the latest news posted on this website, enter your email address in the box at the bottom of this page – under the heading 'Latest news by email'.
You will then get an email with the title 'Follow St Bartholomew's with St Mary's'. It will ask you to confirm that you want to follow this blog's 'posts' – in other words, this website's latest news updates.
Assuming you do, click on the link. You'll get another email confirming you have subscribed – and allowing you to 'unsubscribe' if later on you change your mind
The next time a news update is posted on the website, it will also appear in your inbox.
Tardebigge and Bentley parish magazine
The parish magazine contains articles and news about local groups and events.
You can pick up a copy from the table at the back of the church, or take out a subscription and get the magazine posted to you.
The price is £1 per copy, £10 for a yearly subscription (of ten editions), and £16 for the yearly subscription and postage.
For more details, click here for the parish magazine page.