Sunday Funday
Sunday Funday is a fun and informal way for children to learn about God.
It's also a chance for parents to spend valuable time with their children and to meet other families who live in the area.
Sunday Funday is on the 3rd Sunday of every month during the school term.
It starts at 11.00am and finishes about 12.00 midday.
We welcome children of all ages and their parents or other family members, wherever they're from.
You don't have to live in Tardebigge, or be involved with Tardebigge First School, to join us at Sunday Funday.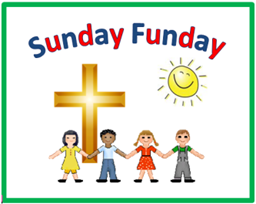 Sunday Funday is on the 3rd Sunday of the month – in the school term
It starts 11.00am and finishes about 12.00 midday
Check the Calendar for details
What happens in Sunday Funday?
To begin with, we meet in the church for a blessing during the 11.00 service. Then we go over to the church hall (which is on the left as you come up the drive to St Bartholomew's church).
Every Sunday Funday is different, but can include music and singing, drama or 'role-play', or getting your hands nice and messy doing arts and crafts.
There's a topic or 'theme' each time, to help children (and often adults too!) to talk about and understand things they might have read or heard about in the Bible.
This might be what the Bible tells us about everyday life, how we can learn to trust God better, or how to see ourselves – and other people – in the same kind and loving way that God does.
We keep it simple, make it as useful as we can for children of all ages, and give everyone who takes part something valuable to take home with them.
More information
If you'd like to find out more before coming along, please contact Kay Middleton
by phone on 07867 492 938, or
by email: km@northbromsgrove.worcs.sch.uk.
We're also keen to hear from parents who'd like to help us set up before and clear away after Sunday Funday.
Other family-friendly services at St Bartholomew's and St Mary's:
Family service
Worship for all
Cafe church